Taught By Beatlemania Cast Member, Lucien Nocelli
"Let It Be", the final Beatles album was first released on 8th May, 1970, just prior to the launch of the cinema film of the same name. It marked the end of an era of not only the Beatles incredible career, but also of the decade.
"Beatle Class: Let It Be" offers you the chance to learn the entire album on Acoustic Guitar. Beatlemania Cast Member, Lucien Nocelli, takes you song by song, part by part through these self paced lessons, so you can perform the songs and make them your own.
THIS COURSE INCLUDES:
All 12 Original Track Listings:
TWO OF US - DIG A PONY - ACROSS THE UNIVERSE - I ME MINE - DIG IT - LET IT BE - MAGGIE MAE - I'VE GOT A FEELING - ONE AFTER 909 - THE LONG AND WINDING ROAD - FOR YOU BLUE - GET BACK
BONUS LESSON:
DON'T LET ME DOWN (Single)
LIMITED TIME ALBUM BUNDLE SALE PRICE AVAILABLE: $197
(save $402 off Regular Price $599)
(or choose 2 easy monthly payments of $99)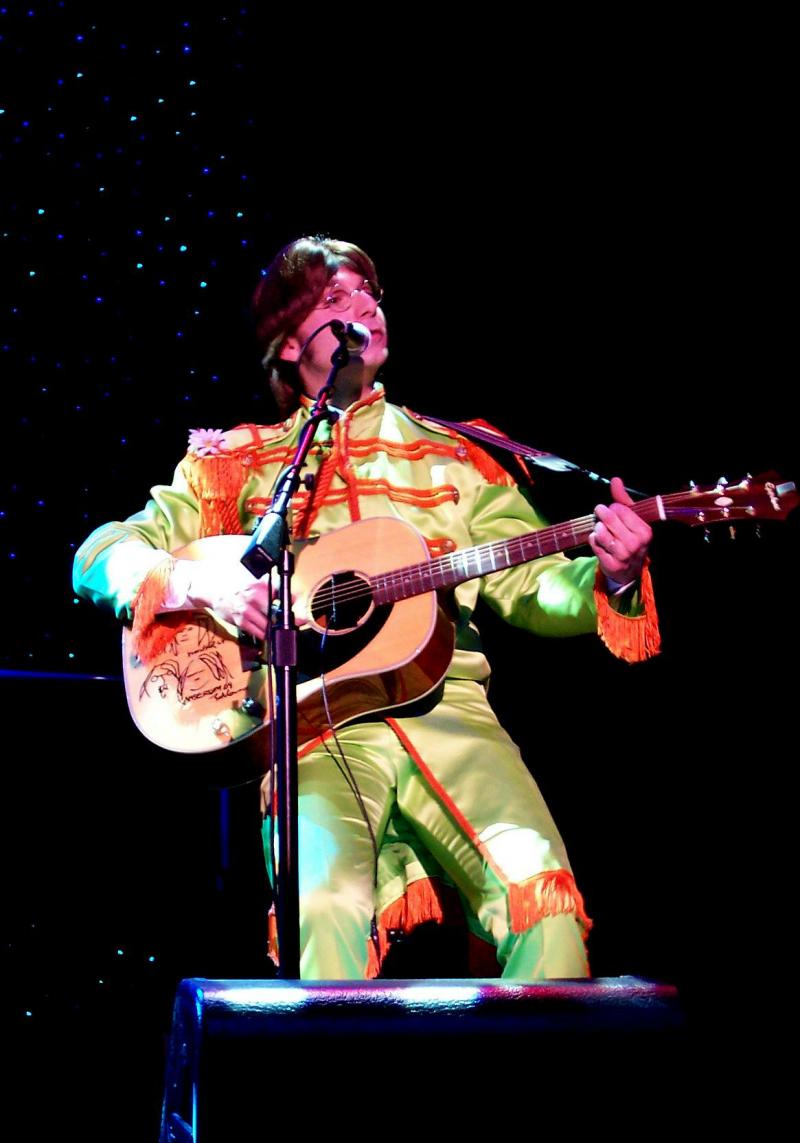 BEATLE CLASS
Taught by Lucien Nocelli, Beatlemania Stage Show Cast Member as John Lennon
World renowned guitarist, performer and recording artist, Nocelli's musical achievements include several successful album releases and tours in many genres from Rock to Jazz to Jazz Fusion. He is also an acclaimed author of an advanced guitar method, "The Nocelli Guitar Method". 
He has been performing as John Lennon as part of the internationally touring production of Beatlemania for over 20 years as well as starring in the 'An Evening with John Lennon' production. Nocelli's natural portrayal of the character commonly receives the comment that he channels Lennon's spirit through his haunting performances.
Nocelli is currently touring and promoting his latest solo artist album release. He continues to tour with the productions of "Beatlemania" as well as "An Evening with John Lennon".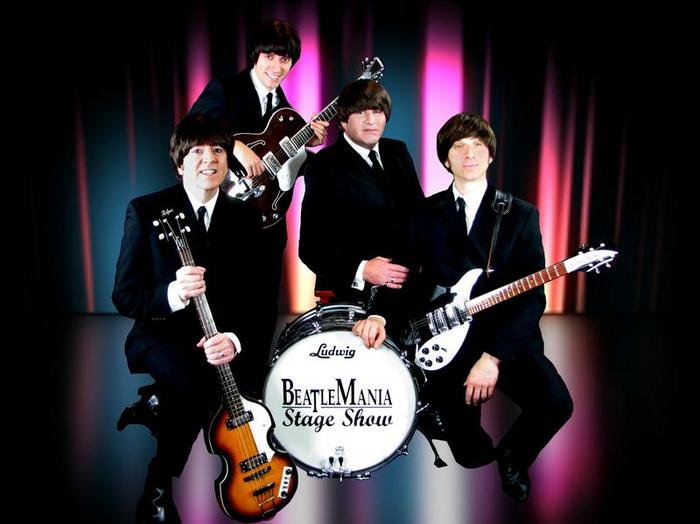 ACT I - Coming To America
1964 was a year of change and confusion for America, still mourning the death of President Kennedy and waiting for a new hope. On the Ed Sullivan show, the country experienced a new beginning as they were introduced to John, Paul, George and Ringo. Beatlemania Stage Show, costumed in the famous fine tailored, velvet collared black suits and skinny ties, recreates this landmark event in American history performing the hits that started the mania.
Experience the energy, excitement and frenzy in this live theatrical performance while the Beatlemania Stage Show recreates the original vocal and instrumentation sounds of the albums live on stage. Songs in this act include She Loves You, Please Please Me, I Want To Hold Your Hand, Eight Days A Week, Yesterday, I Saw Her Standing There and more.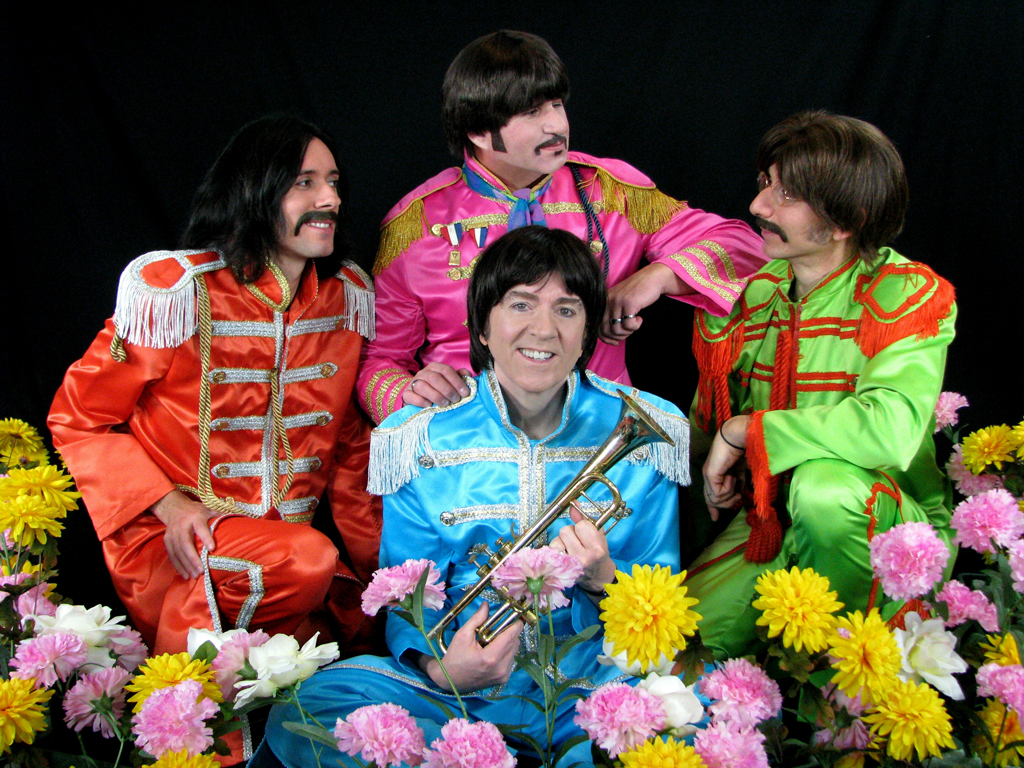 In 1967 the drug culture was in full swing. A peaceful outlook and the beginning of Flower Power was in the air around the world. More creative time was being spent in the recording studio experimenting with new sounds and recording techniques. These times led The Beatles to produce albums Magical Mystery Tour, Yellow Submarine as well as one of the era's most influential landmark albums, Sgt. Pepper's Lonely Hearts Club Band.
The Beatlemania Stage Show returns in Act III brilliantly adorned in authentic silk Sgt. Pepper costumes as they perform live their songs and anthems which influenced the new direction of popular music at the time.
Experience the magical mystery tour back in time as Beatlemania Stage Show performs live songs of the time including Strawberry Fields, A Day In The Life, Penny Lane, Yellow Submarine, Got To Get You Into My Life, With A Little Help From My Friends and many more.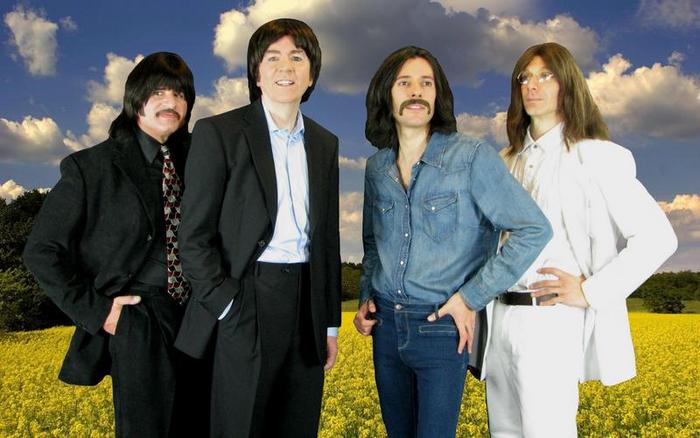 1968 / 1969 was a time of turmoil, riots and war. The sixties were coming to an end, as was this musical phenomenon. Under the pressures of growing apart, having individual projects, wants and needs, a slow deterioration began. Studio hours became longer and more drawn out as more distractions entered lives. Yet, they still released No. 1 selling albums and singles which continued to represent the changing world.
The final Act, displays a striking visual shift as the cast of the Beatlemania Stage Show appear on stage depicting the group as separate, mature and self-reliant individuals. Long hair, facial hair and individual attire lend to the on stage impact that the group members are heading in different life directions. The Beatlemania Stage Show performs the hits of the the White Album, Abbey Road and Let it Be with the enthusiasm, energy, charisma, magic and pure passion that the Beatles always possessed.
Performing live on stage favorites including Come Together, Hey Jude, Revolution, Something, Get Back and more, the "End of An Era" performance demonstrates the unifying of four individuals, sharing years of success, maturing, experimenting, differences, friendship and together changing music forever.
Check your inbox to confirm your subscription